People and Places
Art with a Bang!
It's such a pleasure to visit the artist village of Saint-Paul-de-Vence and my recent trip was made extra worth while after visiting the ArtHouse, a collaboration between painter-sculptors Marie-Louise Bang and Gui Lessin.
When it comes to art, I don't speak with authority, I speak out of passion... I enjoy being challenged by what I see. I tend to be stimulated by understanding the artist, the mood behind the artwork, and the temperament of the artist that is projected.
I went to meet abstract artist Marie-Louise Bang, whose work more than reflected her vibrant personality and warmth. The gallery was like being in a sweet shop... colourful bonbons everywhere, good enough to eat and not knowing which one to pick.
What is so extraordinary about this Danish born artist, and her Brazilian-born partner, Gui Lessin, is that they almost tease the viewer to look beyond the brush strokes of their work by tickling the immagination. Marie-Louise Bang is a free spirit and the explosions of colour in all her paintings brings joy and excitement and that is what her art is about. Gui Lessin paints in a gestural style with flourishes of colour and partially hidden themes and figures which allow us to see what we want to see in each of his rich compositions.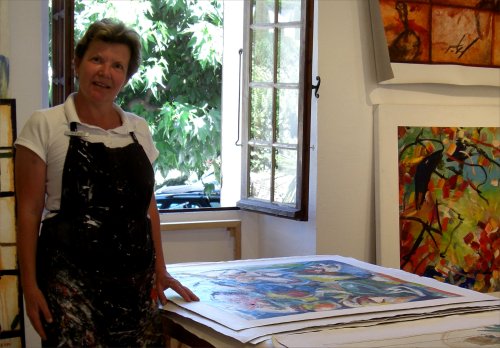 This was one of my favourite pieces by Marie-Louise bang and when I peer into the painting, I see 'Victory'!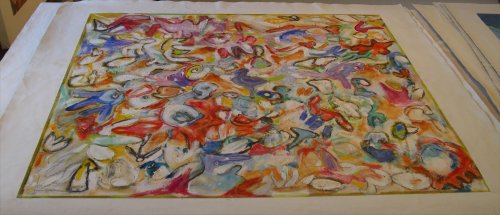 The ArtHouse is open 7 days a week, from morning until late evening.
ArtHouse
1, rue de la Pourtoune
06570 Saint-Paul-de-Vence
www.bang-lessin.com
info@bang-lessin.com
+33 (0)6 74 29 42 87
+33 (0)6 70 49 04 86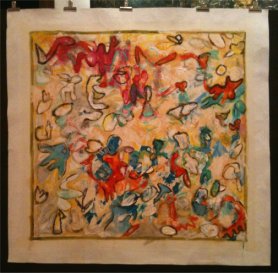 Share this article on Facebook