General Articles
Down the slippery slope and up the other side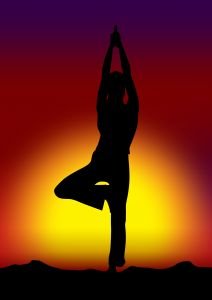 I am thrilled to have been included in the team of experienced, qualified and dynamic teachers at FitHub, the English speaking fitness centre that has just opened in the port of Nice. I am excited, not least because I am over sixty, 'I don't fit the usual profile for a fitness and Yoga teacher,' I wrote apologetically on my job application, 'But I feel there is a need for good fitness teaching for the older age group in this area.'
I don't think I expected a reply, let alone an interview but I was pleasantly surprised. I went along and met Colette Kent, creator and owner of FitHub to talk about my philosophy and teaching. She talked of her vision of an English speaking fitness centre that was to be at the hub of the community, where people would want to come and come back, make friends and enjoy getting fit. I talked about how I had suddenly felt unrepresented, unfit and anxious about where to start getting fit again and how I feel there is a need in the area for a place that can provide that. Colette gave me the job, I went away, just a little worried that I would be up to it physically but absolutely certain that I understand how hard it is to get back when you have gone down the slippery slope to being unfit.
My lack of fitness came to a head last spring when I found my old hockey stick in the loft, dug out the hard ball and went into the garden to see if I could still juggle it a hundred times. I had been an enthusiastic hockey player, even in my fifties. It was a sad revelation; I couldn't move quickly enough, my arms and legs hurt, I was out of breath and worst of all, I couldn't see the ball easily, now that I wear varifocals. It might have made the neighbours laugh but I had never felt so old and demoralised. Mainly, I felt ashamed that I had let myself go, I, who believe in being fit and had lived that philosophy every day of my life in the not too distant past. I went inside and hid from myself.
I used to run several times a week. I loved to put on the 'Walkman' and jog for a few kilometres at the end of a day at work. One day I woke up with tendonitis, never managed to really get rid of it, still have to be careful and the jogging most definitely had to stop.
Then I tried swimming; not as easy with the pool's opening hours and the sea being a little cold in winter but good exercise when I could manage it. However, the hours and the inconvenience seemed to win over too often and I never really got started with it. Similar restrictions applied to the local gym and I didn't fancy going in there with the faddy gadgets and young instructors who surely wouldn't understand my situation; not to mention music I really didn't like.
Walking the dog; not enough, I couldn't get up enough speed with all those lamp posts. Riding my bike; yes I love that but sometimes it exacerbates an old hockey injury in my knee and it seems I have to give up before I've really started, sadly.
My lack of exercise was killing me; undoubtedly literally. I started to put on weight for the first time ever. 'Well, that's normal I'm afraid,' helpful friends would say, 'At our age.' 'But it's because I used to exercise all the time and now I don't,' I protested, 'And I never put on weight anyway.' I would add feebly. They would regard me with the sympathetic disdain I had been guilty of when confronted with older people that were unfit and getting larger and I cringed at the memory of my lack of understanding.
But what was I thinking? It suddenly occurred to me that I had the key to eternal youth in my pocket! Stop worrying and start doing something; get back to doing Yoga.
'When the student is ready, the teacher will appear.' The Buddhist proverb rang in my head and I feel silly admitting it now, I am a qualified Yoga Teacher. The irony of that made me ponder as I sat in a stiff, crosslegged pose on the rug; just being a Yoga Teacher doesn't keep you supple obviously but I do know the alternative poses and it worked. I instantly began to feel better, knowing that I was doing something and trying not to waste energy wondering why I had let it slide.
The fitness wheels began to turn and I then began to acknowledge again the fact that I am also an Exercise To Music Teacher, trained and qualified by the excellent YMCA in London, when safe and effective exercise had usurped Jane Fonda's 'go for the burn' and 'flat-back' bouncing, (dangerous and happily outdated but she did inspire a lot of us initially.)
I got out my music and trainers; it was wonderful. I couldn't do the routine I had created, even the easy version but I persevered. I encouraged some friends to come and join me so that we could get fit together and I could look at how I can help we older/unfit people to regain our fitness, form and confidence. They came with knee replacements and hip issues. Alas, not the 'hip' that got us to the Isle of Wight festival in 1970 but the one that is waiting to be replaced and we had a good laugh; they stuck to it and they brought their friends.
Many years ago I had been a member of a fitness class, held in the local village hall. It was great fun, everyone was there, male and female, old and young, skinny and less so. We thronged in twice a week, laughed with the teacher and made friends with each other. I missed that when I found myself unfit.
'There is no such thing as coincidence,' it is said, so when I saw the advert for fitness instructors at the 'FitHub,' in Nice I applied for the job. On Tuesdays from 11h to 12h, I now teach 'Fit for Life' at FitHub, an exercise to music class where we can enjoy the music, warm up, gain stamina, mobilise joints, strengthen muscles and stretch ourselves back to being flexible. On Thursdays I teach 'Slow Flow Yoga' from 11h to 12h. Here, I can assure you that Yoga is for anyone. Every posture is different for every student; there is no being forced to stand on your head, balance on one toe for five minutes or make yourself into a pretzel. My Slow Flow Yoga class will increase your flexibility, whatever your level and help your day along in a calm and peaceful way.
I now feel really qualified to teach my age group, not just because I have the qualifications but because I know how it feels to have been down the slippery slope and up the other side and I know I will have to keep climbing but it's a lot of fun.
Anyone for a game of hockey? I'm hoping to start an over-sixties team next year… Janet Holroyd - Contact me.
Share this article on Facebook