Food and Recipes
Guest Chef Prepares Pot Of Chocolate Heaven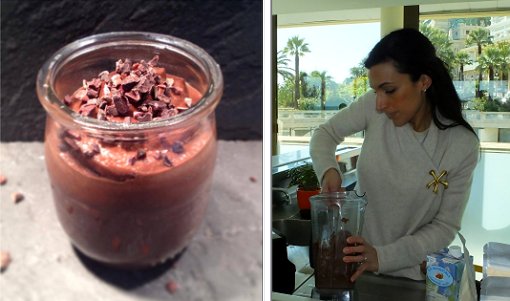 Local chef Naomi Buff (The Clever kitchen) brings a lotta love to the table this Valentine's Day. This is food heaven in a little pot - an exploding chocolate flavour that can only enhance the romance on Valentine's Day and in fact any day!
Here we go...
Ingredients:
1 cup of soaked cashew nuts
3 tbs pure maple syrup
2 tbs unsweetened almond milk
1 tbs coconut oil
3 tbs raw cacao
1 tsp vanilla essence
dash of Himalayan salt
1 tbs cacao nibs (optional for garnish)
Equipment: High speed blender

Cashew Nuts - Raw Cacao - Maple Syrup
Method:
Prepare the night before and soak 1 cup of unsalted cashew nuts in filter water. Add all ingredients to your blender and whiz until totally smooth, it might take a few attempts to reach a desired smooth consistency and you will probably need to stop a few times to scrap down the blender and mix. Refrigerate for about an hour to chill before serving. You could also try freezing for a chocolate ice-cream (remove from the freezer about half hour before eating)
Try some other fab combo's:
Chunky Monkey: Remove half the amount of maple syrup and add a ripe banana, a handful of walnuts and tbs of almond butter.
Chocolate orange: replace the vanilla essence with orange extract and top with grated orange rind.
Mint choc chip: replace the vanilla essence with peppermint extract and add a tbs to raw cacao nibs.
Dark Choco Moca: replace the almond milk with 2 tbs of espresso.
Want to get really sexy with your chocolate... add in a tablespoon of libido boosting maca.
You can also add this to a raw chocolate crust base to make a raw chocolate "cheesecake".
Taste the l-o-v-e...
Read more about The Clever Kitchen in The Clever Girls.
Share this article on Facebook