People and Places
One Day With Laurence Shukor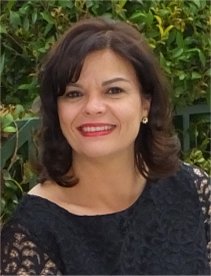 Number 10 is becoming quite a significant figure to Laurence Shukor, the new press and public relations manager at the Metropole Hotel in Monaco. Laurence embarks on a career change after 10 successful years managing Hi Hotel in Nice, to embrace the new role allowing her to use her communication skills at one of the world's most well renowned hotels just as they celebrate their 10th year anniversary. For Laurence this is the perfect opportunity to make her own mark during what will be an exciting year at the hotel where she will assist in launching new projects taking the hotel in new directions.
Laurence lives in Nice with her husband and two children. She was born in Madagascar to French parents and as a child lived in Kenya, Iran, Italy and Singapore. Laurence obtained her degree in communication and language science at the university Paris Vlll.
Laurence has a wealth of experience in the hospitality world and luxury market. Her attention to detail and ability to multitask is a true complement to her cool confident approach to her role but there is nothing cool about her warm smile whenever she greets anyone that she meets.
"This is an exciting role and I am enjoying being a part of the Metropole legend ... Working here is like being with one big family, it really is..."
The Riviera Woman is privileged to spend a day with Laurence to share her experiences and to see how she handles a typical working day at the busy Metropole, Monaco.
6.30 am My alarm is usally set between 6 and 6.30 in the morning. I make sure I am 'coffeed' up, I check my emails, Facebook account and get myself ready for whatever the day will bring.
As soon I am ready for the day, it is time to wake my youngest daughter. Fortunately my eldest girl is able to take care of herself. We have breakfast and make sure that everything is ready for school and then my wonderful husband takes my little one to school.
7.20 am Prompt! I leave home to catch my train from Nice to Monaco.
8.20 am I usually arrive at work before anyone else and this allows me to collect my thoughts for the day before anyone else arrives. My first task of the day is to check all my emails. We have an agenda board in the office where we list all the jobs we need to achieve that day and together with my colleagues we prioritise what needs to be done first. My day consists of a lot of meetings so preparation, organisation and having structure is key to my day running smoothly.
9.30 - 9.45 am Every day for 15 minutes, department managers meet with the General Manager, M. Messant to recap on the activities from the previous day and outline the new targets of the day. Then back at my office I spend the morning organising press releases for magazines: the dailys, design and women's magazines. This is where our notice boards are so useful, so I can refer to what and who needs to be contacted. I also spend time creating reports for the advertising budgets. To me it is important that we have quality coverage and I like to make sure we present our hotel in the best possible light.
Lunchtime Depending on the project I am working on, I take lunch anytime between 12.00 and 1.30 pm and I usually stop for about 30 minutes. If I am engrossed in my writing, I always prefer to finish what I am doing before taking a break so as not to lose focus. Very often I have business lunches to attend and then of course it is my client that takes priority. When lunching alone, I can take advantage of our wonderful staff restaurant here at the Metropole where we can eat well for very little. I enjoy eating something simple and light at lunchtime, such as a salad or meat or fish.
1.30 - 2.00 pm Once a week I have a meeting with our Press Bureau in London and Moscow, to discuss new ways to present the Metropole to the world. We are also members of the Leading Hotels of the World organisation and this is such an honour and every effort goes into maintaining the status and this allows me to use my core skills in communication by contacting all those representing the luxury market.
The afternoons are also the time when we have scheduled meetings. Usually every 15 days for about an hour and a half together with all department managers we all contribute to an open discussion, sharing thoughts and ideas. All of our departments can then see and liase, so we all stay on the same page, so to speak. It is a great way for us all to understand and learn how we all operate so we can iron out any problems and focus on the main agenda. I also have a personal meeting with my General Manager every Friday to keep him informed on everything I am doing, the ideas I have and what my objectives are. I am lucky to have the full support of the management and team and this makes a very stimulating and happy working environment. I remember being told that working at the Metropole is like being with one a big family, well it really is, it is wonderful.
After all meetings come the write-ups and the 'to-do' lists of all the things that were raised in our meetings. It is quite time consuming but extremely necessary. I like to keep our social media profiles up to date too and all this forms part of my duties at the Metropole. It is such an honour to be a part of this wonderful organisation and I hope that I will look forwrd to reflecting back when I reach 10 years of service with this most beautiful hotel.
Home time I aim to leave work around 6.20 pm allowing enough time to catch the 18.45 train to Nice and if all is well, I am back home within the hour.
7.40 pm The first thing I do as soon as I get home is to take my shoes off and I love it when we come together as a family. This certainly grounds me as my role as a mother and wife come into play. The first half an hour, my husband and I like to exchange what we did during the day whilst we prepare the family dinner together, and our children spend that time doing their homework or relaxing after their school day. Meal times are important to us as a family and I suppose my role as communicator contributes to us being a close and happy family.
After the children have gone to bed, my husband and I like to spend some quality time together unwinding and we do like to watch a quality series such as the British classic Downton Abbey.
10.30 pm It's bedtime and the perfect time to do a little catch-up reading before going to sleep. I receive so many magazines from all over the world and there's no better time than now to flick through the glossy pages.
***
Share this article on Facebook