Health and Beauty
Organic Detox Bar - Juice Of The Month
BORDO DETOX JUICE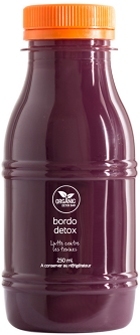 Ingredients:
Apple
Beet root
Ginger root
Lemon
Carrot
Filtered water
When to drink: anytime but especially beneficial in the morning or before a workout session for increased energy, endurance, and stamina
This juice has a healthy combination of fruit and root vegetables that all aid in the elimination of toxins. The carrots in the juice provide the body with the strong immune fighting antixodiant, beta carotene, while the phytonutrient, betalains in the beets detoxify the body, relieve inflammation, and protect against free radicals. Additionally the nitrates in beets can help improve endurance and energy by helping your body utilize oxygen more efficiently.
The apples also provide phytonutrients and antioxidants and assist your digestive system and improve blood sugar control. The lemon provides extra Vit C to help alleviate inflammation and boost the immune system. The addition of ginger gives the juice a nice kick and helps decrease inflammation, improve digestion, and enhances bloods circulation.
***

Tara Ostrowe, MS, RD is a registered dietitian and sports nutrition based in New York City who provides individual, team, family, and corporate nutrition counseling, consulting, and education to adolescents and adults. Tara specializes in areas such as sports nutrition, eating disorder management, weight management, and cardiovascular health. Her mission through lifestyle nutrition counseling is to help her clients develop healthful eating and exercise behavior changes for long term health. She believes that balance and moderation is the key to living a healthy and happy life.
Tara recognizes that everyone's needs are unique, and therefore creates personalized and specialized nutrition plans to help clients meet their individual behavioral goals and desired outcomes. By providing a warm environment, she ensures that her clients feel completely at ease and comfortable with expressing themselves. As a dedicated nutritionist, Tara aims to empower her clients with the necessary knowledge, skills, support, and motivation to achieve and maintain their targeted goals.
11 rue de la Turbie, allée Lazare Sauvaigo, 98000 Monaco
Phone number: + 377 97 77 33 84
Share this article on Facebook