Anna Fill Interviews
Interview: George Lucian - He who dares... dreams!
Earlier in August we featured an article by Celina Lafuente de Lavotha, our Monaco correspondant, who wrote about George Lucian the young man working in Monaco, with a concept for a very futuristic yacht design.
George Lucian stirred the entire yachting industry with his vision for the superyacht named 'Dare to Dream'. It not only hit the local media but on a global level too. Not bad for someone who let his imagination wander and create a concept that fused the sea with the sky!
We wanted to know a little more about this very enterprising 29 year old, George Lucian...
Tell me about YOU? Where you are from, where you now live and what you do?
GL: I was born in Romania, in a city called Oradea. To further my education I moved to Vienna, Austria and attended the American University to study, and I graduated with a degree in International Relations and International Business. I was there for 6 years. As soon as I finished my studies I began working for a company which operated cruise vessels on the Danube river, as a cruise ship manager.
As well as my own mother-tongue language of Romanian, I studied, English, German and French which I use constantly and the languages are extremely useful at work too.
I have always been passionate about drawing. In fact I have been drawing ever since I could hold a pen in my hand! I moved to the South of France 4 and a half years ago and took a post as a Yacht Insurance Broker, a job that I love very much.
You have just designed a most futuristic and unique concept for a superyacht. What inspired you? Was this something you started to sketch on a pad or did you use a software program?
GL: My inspiration came from all the different designs I study every day online and from my great passion for yacht and aviation as well. I do use a software program to design but, initially I always sketch my first thoughts on any piece of paper I can get my hands on.
I am of course very passionate about zeppelins too and that is why I really wanted to integrate one into my designs.
______
"I always sketch my first thoughts on any piece of paper
I can get my hands on."
____
How long did it take you to create the final version of the design that you were most happy with?
GL: The design process took me at least a couple of weeks, as I was analysing and tweaking all the time the version I thought to be the final one, but the work itself took much less.
Nevertheless, it took a long time before I wanted to show it to the public.
Did you envisage the kind of person who would possibly own this yacht?
GL: The person I would envisage as the owner has to be someone who likes to be different and to go beyond the traditional limitations of yachting. At the same time, the owner would have to be very passionate about aviation and flying.
Tell me more about the airship and why the combination with the yacht?
GL: The zeppelin, airship, is stored on board when not in use. On board it can even accommodate people, having perhaps a couple of bedrooms and a living room and room for the personnel. It can be used to explore the inlands and the waters in the vicinity of where the mother ship is navigating.
I am very passionate about the airships that were transporting people over the Atlantic in the beginning of the 20th century having on board luxurious facilities, and I wanted to recreate this feeling. From a zeppelin you can enjoy the sky in a very peaceful manner, something that cannot be achieved with the planes.
Did the environment and thoughts of sustainability play a role in your design?
GL: The project took into account the environmental so it is eco-friendly, with solar panels and a very small environmental footprint.
Let's say your design could be realised, where would you like to have the yacht built and how much would you like to be involved in the build?
GL: I would choose for the yacht to be built by one of the biggest yacht shipyards in the world, preferably Germany or in the Netherlands, and the airship by one of the companies that are specialists in this field. Of course I would love to be involved in every step of the building process.
What would you like your next dream to be? Still with yachts?
GL: Yes, I will continue to draw and design yachts but not only... I am very lucky to have had a lot of dreams come true already.
Do you have a love of yachting yourself, sailing, being on the water?
GL: Yes, yachting is my great passion. I love sailing and being around boats.
What is your mission... your ultimate dream?
To be happy 😊 and I think I am on the right track 😊
-----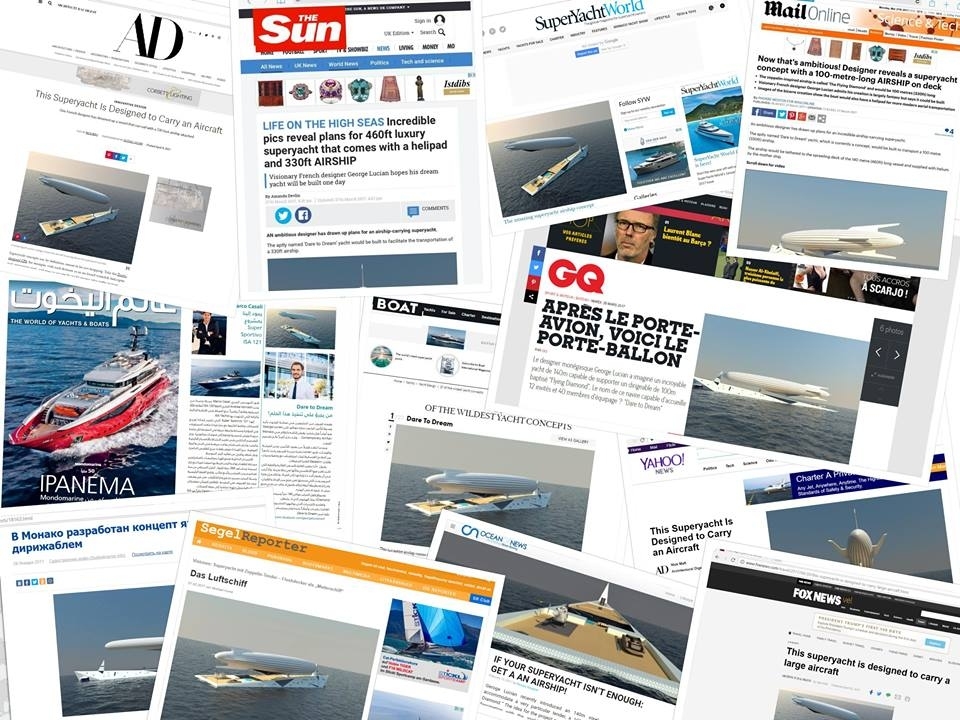 George Lucas hit the media on a global level. To date over 100 articles have been published about the super yacht 'Dare to Dream', in more than 10 languages.
www.george-lucian.squarespace.com/press
Share this article on Facebook