Food and Recipes
Diet Chocolate Cake
Diet Devilish Chocolate Cake
This delicious cake is remarkably lower in fat and calories than a normal chocolate cake. It also lasts much longer than a low calorie chocolate cake, and remains soft and fresh for a few days. Just don't get carried away and eat too much!
Cake
175g caster sugar
60g butter
175ml boiling water
290g cups self-raising flour
1/2 tsp bicarbonate of soda
60g cocoa
2 egg whites + 1 egg yolk

Chocolate Fudgy icing
175g icing sugar
1 tbsp cocoa
1-1.5 tbsp milk
1. Pre-heat your oven to 180 degrees.

2. Dissolve sugar and butter in boiling water in mixing bowl. Stir until the butter is melted.
3. Sift the flour, bicarbonate of soda and cocoa into the same bowl and beat for 1 minute with an electric beater. The mixture should come together to be a nice creamy chocolate colour.
4. Add egg whites and 1 of the yolks, and beat 30 seconds more.

5. Very lightly grease and flour a cake tin, a loaf tin works very well.
6. Pour the cake mixture into the tin and bake for around 40 minutes. The cake should rise dramatically, and a knife inserted into the cake should come out clean when it's completely cooked.
7. Leave the cake to cool, then place the icing ingredients into a bowl and beat well. Spread the icing over the top, letting it run down the sides if it wants to. Let the icing set, then cut and serve.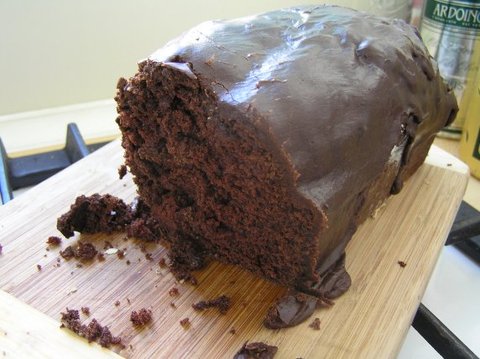 Share this article on Facebook