Health and Beauty
Aromatherapy
Aromatherapy is a fashionable world, but what's behind it? As we want a greener and more balanced approach to health, herbal therapy is growing once more. Easily accessible and very potent, essential oils are increasingly used for comforting or healing.
Here on the Riviera, we are in a prime growing region for medicinal plants, on the hills around and above Grasse and Nice, you can find wild lavender, thyme, rosemary, savoury, myrtle, immortelle and many more ancestral healers. We also grow citrus trees, rose and jasmine which have not only beautiful smells but also very useful remedies (rose for instance is excellent against cold sores, rose petal tea is a good intestinal cleanser). A bit further in the Alpes de Haute Provence, lavandin is grown industrially notably on the Valensole plateau. Of course the large majority of the oils produced here are for the food and perfumery industry, but in the last ten years small, and for the main organic farmers and wild plant pickers have developed their production and are now able to sell their excellent produce locally.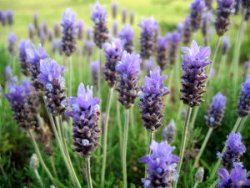 Lavender
If you only have one essential oil at home it should really be lavender. It is the most versatile of all, with its anti-inflammatory and anti-bacterial properties it is good for skin rashes, burns, cuts and grazes. It is one of the few essential oil that can be applied neat to the skin but you can also mix it with vegetable oil like almond oil but also olive oil before rubbing it on. It is also excellent basis for muscles rub or to add to the bath (in a dispersant) for a really calming experience. Lavender is often used as an insect repellent (it works well against lice and mites).
Aromatherapy is the controlled use of essential oils by different methods to enhance the well-being of the mind, body and spirit. It uses pure essences from plants, which may have a preventative effect, helping to care for common ailments while working alongside medical treatment in the healing process. Essential oils are highly fragrant, volatile and are extracted from flowers, leaves, twigs, bark, roots and fruits of many common plants. The essential oils have many different properties and as research has shown, can be stimulating, anti-infectious, anti-inflammatory, relaxing, calming, soothing and uplifting. Aromatherapy, therefore, has the ability to affect the emotions, promote bodily well-being and balance psychologically.
Aromatherapy is beneficial to most people in most circumstances. Essential oils must be diluted and used with care, preferably under the guidance of a qualified aromatherapist. He/she will help you chose the oils most relevant for you at the time and propose the best way to use them, through massage, inhalation or ingestion (in which case it will have to be in agreement with your doctor or pharmacist)
Aromatherapy through massage is highly successful in:
Treating stress, anxiety and tension (insomnia, difficult digestion, fatigue)
Reinforcing the immune system (by getting rid of toxins and stimulating blood and lymph circulation)
Pain management and psychological help in times of need minimising the effects of hormonal changes (pregnancy, painful menstruations, menopause)
For more information talk to:
Isabelle Sogno-Lalloz - Professional Aromatherapist
+33 (0)6 70 50 53 25
Share this article on Facebook