General Articles
Lionel Richie Has Monaco Rocking.
LIONEL RICHIE FIRST EVER APPEARANCE AT THE OPERA OF MONTE-CARLO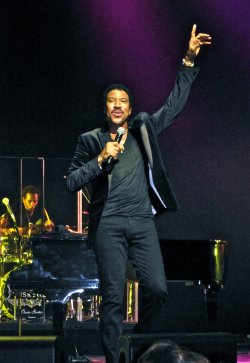 On Friday, November 2nd Lionel Richie, the American singer-songwriter, record producer, actor and musician, had the audience Dancing on the Ceiling, All Night Long in the Salle Garnier in Monte-Carlo.
He sang his most unforgetable songs of peace and love like Hello, Endless Love, and more. His new album launched at the beginning of the year called Tuskegee that carries the name of the town in Alabama where he grew up, includes 13 of his biggets hits recorded as country duets.
During his career he has sold more than 100 million discs, won 5 Grammy Awards, an Oscar for the best original song and a Golden Globe Award.
Lionel Richie will be giving a second performance in the Salle des Etoiles at the Sporting today Saturday, November 3rd. Reservations +377 98 06 36 36 or visit www.sportingmontecarlo.com
Photos by Celina Lafuente de Lavotha: Lionel Richie at the Salle Garnier and the public on a standing ovation.
Share this article on Facebook