People and Places
Meet The Author - Patricia Sands
A new wave of authors are emerging, thanks to self publishing opportunities. Canadian born Patricia Sands, a regular visitor to the French Riviera, has just published her second book titled 'The Promise of Provence' which captures the flavour and essence that simply is Provence: the food, the wine, the song. The main character Katherine Price, gives hope to all those seeking to embrace new life following heartbreak and pain. The idyllic setting comes from the author's own passion and knowledge of the local area and will leave you energised and fearless, and motivated to book the next flight destined for the South of France.
The charming storyline is a credit to the author. Patricia's sympathetic and easy-to-read style makes this a must-have book for dreamy days and magical moments.
Patricia Sands made her debut as an author in her 60's with the novel 'The Bridge Club'. The book based on fact - is a story of eight women who build their friendship around the card table, a friendship that surpasses four decades and more... Fact turns into fiction as Patricia introduces a twist to the tale. The characters become faced with events that will alter the friendship forever. Testing times but a friendship unbreakable. An excellent read, an excellent author, an inspirational woman.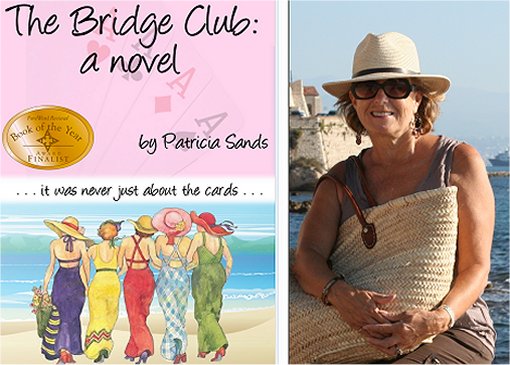 Follow Patricia Sands on Facebook.

Click here to read 60 reviews for The Promise of Provence on Amazon.com
Click here to read over 80 reviews for The Bridge Club on Amazon.com
***
The Womens Travel Network loved The Promise of Provence so much, they put together a special 11-day tour of the south of France for 14 women and invited Patricia to lead the tour in June 2014. The first tour sold out immediately and a second is now being offered which Patricia will also lead. Click here for all the details, call your BFF and join the fun!
***
Enter Competition to win a copy of The Promise of Provence: HERE.
Share this article on Facebook