Interview with Victoria Morris, Animal Behaviourist & Trainer.
All articles in section 'People and Places'
This artist is provocative and teases his audience.
You either love or hate this artists work... no half measures.
Driven by passion, Kim Defforge shares her journey and love of all things French... "C'est la vie..."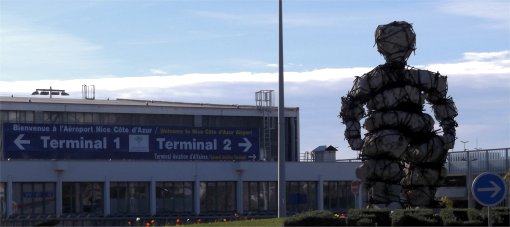 A landmark not to be missed at Nice airport between Terminal One and Terminal Two is this outstanding sculpture made of stone.
But how much do you know about him and his creator?
Italian artist Danilo Martinis masters colour, design and illusion. The three dimensional impression imposes but never interferes...
Book signing by former Secret Agent Colonel Thierry Jouan , at the FNAC in Monaco.
The Private Equity and Venture Capital Association held their end of yesr General Assembly at The Monte Carlo Bay.
Guest speaker was author Francesco Bongiovanni.
Read more and see video of a recent talk he gave about the Decline and Fall of Europe.
Tina Kieffer, former News Editor for Marie-Claire comes to Monaco to talk about her association « Toutes a l'Ecole» (Everyone to School).
Celina Lafuente de Lavotha tells The Riviera Woman more...
Lorenzo Quinn, is an artist in so many ways. His work will leave you moved. His exhibition titled 'The Fusion' can be seem at the Galerie du Forum, in Monaco.
Celina Lafuente de Lavotha reports...
... with a new kid in town. Joining owner Sophie Lemaitre of the K11 Concept store is new lounge wear designer Virginie Boeri Pesce.
These are exciting times...
Bank Havilland and Mr. Zsolt Lavotha play host to Swedish artist Fabian Edelstam, in Monaco.
The collection features the artist's icons, memories and Grace Kelly...
95 articles (10 pages) in section 'People and Places'