Events
Vivaitalia (Formerly Britalia) this May 2017

Vivaitalia.Club
where English meets Italian
www.vivaitalia.club
---
Welcome to May 2017
So we've been getting some rain... gardeners will say '
Good for the garden
'! My veggies and olive trees are loving it. And I say '
May all your days be absolutely beautiful come rain or shine!
'
Last month and with thanks to our guide Eleonora Martini, we had the most amazing walk up and down (well mainly up) the hills of Apricale. Weather was perfect and all 24 of us had a super time. You can see the photos
HERE
More walks planned for later this year!
Here are a few dates to remember:
Thursday 11th May: Monaco - Professional Women's Network.
Delighted to support this event. Local resident Cindy Egolf is heading the Monaco PWN and the inspirational business networking lunch starts at 12:00 until 14:00. Venue: 'Address Restaurant' in Monte-Carlo.
See full details
~
Bio Hair
in Ventimiglia: Summer is on the way and Bio Hair's No.1 priority is to ensure your hair is well protected against the sun. The SU range by Davines will protect, nourish and keep your hair
beautiful
all summer long...
Read more
***
Upcoming Vivaitalia Apero Evenings
* NEW! Ventimiglia Apero Evening: Wednesday 17th May, starting at 6.30 pm. We've had several requests to hold an Apero in Ventimiglia so we thought why not? Same format, just come along and meet new and old friends.
The venue is close to Ventimiglia train station: ...al 6 Caffetteria Enoteca - Via Hanbury, 6F, 18039 Ventimiglia.
* Cinema Cristallo - English Film Night: Saturday 20th May.
The film is Vertigo (1958)
128min | Mystery, Romance, Thriller | Rated 8.4/10
A San Francisco detective suffering from acrophobia investigates the strange activities of an old friend's wife, all the while becoming dangerously obsessed with her.
Director: Alfred Hitchcock
Stars: James Stewart, Kim Novak, Barbara Bel Geddes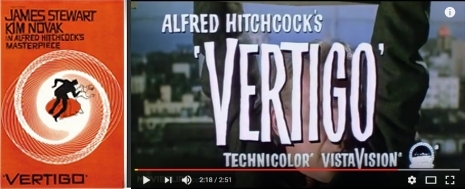 Preview:
https://www.youtube.com/watch?v=Z5jvQwwHQNY
Starts at 6.30 pm - Venue: Cinema Cristallo, Dolceacqua.
We enjoy going for a meal/pizza afterwards so why not join us. Email me to let me know if you would like to go to the restaurant so I can book a table for us. The restaurant keeps a tab of individual orders which makes it nice and simple.
anna@therivierawoman.com
* Bordighera Apero Evening: Friday 26th May, starting at 6.00 pm. We hope to see you back at Vanda's Prestige Bar, near the church in Bordighera Town. As always you are welcome to stay as long as you like and enjoy chatting with new and old friends! Our April Apero was superb! See PHOTOS
NOTE! If we know the weather is going to be warm and sunny, this location may change to our summer beach resident but we'll keep you posted.
---
Save the date in June!
*
Sanremo Apero Evening:
Friday 16th June
-
Thank you for the requests to hold another Apero in Sanremo.
Full details next month!
---
Come and meet your friends and make new ones too as we engage in a lively fun evening. Everyone is welcome!
La Bella Vita! La Bella Italia! #VivaitaliaClub
We look forward to seeing you very soon!





Anna Fill
+39 339 724 8538
Follow us on our website, Facebook Page or on MeetUp
www.vivaitalia.club
(www.britalia.club)
www.facebook.com/Britalia.Club
www.meetup.com/Britalia-where-English-meets-Italian
Any existing links to Britalia.Club will be ongoing. Even with a name change we are still the same group with the same principles and same mission: To meet like-minded people from all over the world who enjoy meeting others and sharing experiences in Bella Italia.
We as a club believe in being a part of the local community by supporting the local community.
For The Riviera Woman May Newsletter: HERE
The Riviera Woman celebrates 10 years this year!
Tuesday, 2 May 2017 Section:
Events
Share this article on Facebook