Interview with Victoria Morris, Animal Behaviourist & Trainer.
All articles having tag 'Anna Fill'
It is one of my highlights of the year: The Contemporary Art Show, Art Monaco'12.
I caught up with the creator Johnessco Rodriguez and also exhibiting artists.
This artist is provocative and teases his audience.
You either love or hate this artists work... no half measures.

The media seminar takes place this year in Nice with the topic 'Media as a Weapon'. The Riviera Woman is delighted to be back on the panel.
I met Linnea in Monaco to talk about her perfume range and what inspires her.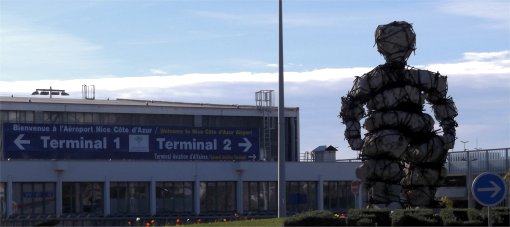 A landmark not to be missed at Nice airport between Terminal One and Terminal Two is this outstanding sculpture made of stone.
But how much do you know about him and his creator?

The Italian flavour continues with this infectious tune that will have you humming it over and over again and the singer's husky voice will have you melting...
Biagio Antonacci and 'Pazzo di Lei' (Crazy About Her)
Cruising along the Mediterranean on a beautiful sunny February day, this is what I choose to listen to... a little Jazzy and Blues number...
Mario Biondi and 'This Is What You Are'.
Anna Fill Interviews local business woman Judy Churchill.
Happy 2013 from The Riviera Woman
We are still here... and it feels absolutely fantastic! It is a good time to feel fortunate and to reflect on those good times and say 'we are lucky!'
Here are some and I say some, of my favourite moments in 2012 and they are all thanks to you...
36 articles (4 pages)