General Articles
Super Cup Press Conferences with Atletico & Chelsea - Plus find out who won the cup...
Atletico eager to retain the trophy
Club Atletico de Madrid press conference at the Grimaldi Forum on Thursday, August 30th at 13:00 - Atletico Madrid who won the Super Cup 2011-2012 may not be the favourite to win this time around, but their trainer Diego Simeone said that 'words and forecasts don't count but the game itself'. They are proud to have arrived to this stage and will do their best on the field this Friday. It is not just about winning but to think of how to win. The Super Cup provides prestige to their players. "We see playing this match not as pressure but as an objective to improve".

Photo - From Atletico Madrid : Falcao (centre forward), Diego Simeone (club Manager originally from Argentina) and Gabi (centre midfielder) with Graham Turner (UEFA Media Manager)


Chelsea favorite to win the Super Cup
The Chelsea press conference followed at 15:30. Most of the questions were for Fernando Torres who not only was formed in Atletico de Madrid but counts this club as his favorite team and will now be confronting them in the Super Cup. But he will put all those feelings aside and do his best to help his Chelsea team win the Super Cup on Friday. Chelsea Manager Roberto Di Matteo said "Hopefully we can bring the trophy home after 14 years." Di Matteo was a midfielder in 1998 when Chelsea won in Monaco against Real Madrid. When he was asked if he was interested in bringing Falcao to Chelsea, he categorically said he did not plan to, and confirmed this player will be a big threat for his team on Friday.

Photo – From Chelsea : Timo Walden (UEFA Media Manager), Fernando Torres (striker), Juan Matta (attacking midfielder), Roberto di Matteo (Club Manager), Steven Atkins (Chelsea Communications & PR Manager)
Photographs and Report by Celina Lafuente de Lavotha
-----
*The football match was shown on UK's ITV channel at 7.30 pm local time (8.30 pm France/Italy time)*
Atletico crashed Chelsea to win the UEFA Super Cup while Monaco says its farewell
Colombian striker Falcao scored a brilliant first-half hat-trick as Atletico Madrid crushed European champions Chelsea 4-1 with a fantastic display of attacking soccer in the Super Cup final. Atletico lifted the UEFA Super Cup for the second time in three years by beating favorite Chelsea FC at the Stade Louis II in Monaco, celebrating with the many fans that came from Spain to support their team.
This was the last Super Cup match to be held in the Principality. UEFA is taking the season opening road show around Europe from 2013, and it is scheduled to be in the Eden Stadium in Prague, Czech Republic, in August 2013, and will be the first to be held away from Monaco since it became a one-legged match in 1998, 15 years ago.

Photo: The players with the cup and a very small future player imitating Falcao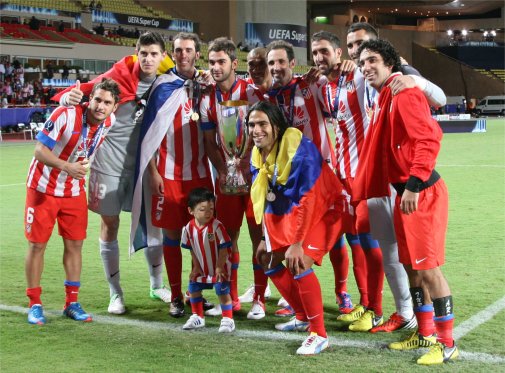 Photograph and Report by Celina Lafuente de Lavotha
Share this article on Facebook