General Articles
First Monaco Private Label Dinner at Louis XV

Alain Ducasse and Michel Bouquier, Senior Advisor Finance & Economy Department - Monaco Government
Saturday, October 18th was the first exclusive Monaco Private Label (MPL) dinner at Le Louis XV in the Hotel de Paris, part of a three-day tailor made itinerary carefully prepared by Michel Bouquier for a few selected privileged international guests. MPL was created in 2009 and counts today with more than 600 by invitation only members from 23 countries.
The festivities started with a cocktail on the terrace in the presence of H.S.H. Prince Albert II, followed by a guided tour of the Hotel's famous wine cellar stocked with over 450.000 bottles, to culminate with a superb gourmet dinner served under the supervision of Mr Alain Ducasse himself to celebrate the 25th anniversary of his 3 star Michelin restaurant.
The American soprano Meagan Miller and Russian pianist Kira Parfeevets delighted the guests during dessert.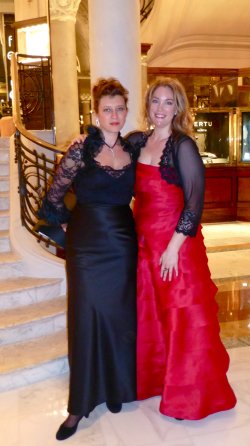 Pianist Kira Parfeevets and Soprano Meagan Miller
The American soprano Meagan Miller will be singing in Puccini's "La Fanciulla del West" the opera to be played on November 19th as part of Monaco's National Day festivities.
Photos by Celina Lafuente de Lavotha
Share this article on Facebook