General Articles
An Interview with... Vasily Klyukin - Space Man
It is already June but the air is still unseasonably cold, so I decided to meet Vasily Klyukin in the lobby bar of the Metropole Hotel in Monte-Carlo for an exclusive interview. His claim to fame happened when he became the first Monaco resident to sign up for a Virgin Galactic trip into space with the famous actor Leonardo DiCaprio, when he made the highest bid of €1.2 million at the recent amfAR auction during the Cannes Film Festival.
Vasily was born in Moscow in the late seventies. His father, a writer and history professor, had moved there with his wife to work in the University. He is married to beautiful Anna Vishnevskaya an ex TV-presenter with whom he has a young son. He also has two other children from a previous marriage living in Cannes. Vasily pursued his studies in finance and as a true entrepreneur started his own company with a few of his schoolmates. They even managed to buy a small regional Bank and developed it to become one of the top hundred, that they later sold partly to a large Dutch-Israeli conglomerate. Being a banker enabled him to borrow money to invest in personal projects mainly in real state reconstruction and development. He moved to France in 2012 and in March of 2013 he became a Monaco resident while keeping secondary properties in both France and Russia. A man of diverse interests he counts architectural design and modern art as his passions and he recently bought a building on the Rue de Portier in the Principality that he plans to redesign. He is also working on an architectural book specializing in avant-garde exterior design to be published this summer. He inherited a love for reading and writing books from his father. Among his favourite sports he cited football and poker! He constantly craves for extreme adventure and has recently visited the Arenal Volcano in Costa Rica, enjoys ice driving and bobsledding, has explored the deep caves in Belize, helicopter tours in Salto Angel, jungle trips and more. So it is only fitting that he will now go into space, the next frontier.
When asked what inspired him to bid for the space trip during the amfAR auction, he said he would like to see how planet Earth looks from space, feel the exhilaration of the zero-G weightless experience, plus the exclusivity of being the first Monaco resident to go into space. A few months ago he had registered to be on the waiting list for the space trip but now has moved to the top of the line! The auction brochure for the star-studded amfAR gala, said a celebrity guest and the winning bidder would be among the first 1,000 people to leave the planet. It was actress Sharon Stone who later announced that the winner would spend three days in training with Great Gatsby actor Leonardo DiCaprio in New Mexico before blast-off and be personally escorted in the flight by the handsome movie star. But besides the attention he is getting for his lavish bidding, Vasily is known for his generosity giving back to society supporting other charities like the Naked Heart Foundation of Natalia Vodianova benefiting children with special needs (www.nakedheart.org)
The Virgin Galactic space trips are scheduled to start in the state-of-the-art Spacesport America in the desert of New Mexico at the end of the year. Other celebrities on the estimated 65,000-person waiting list to take the space ride include Brad Pitt and Angelina Jolie, Asthon Kutcher and lately Justin Bieber. Steve Branson has long said he'd be on the inaugural space tourism flight, along with family members. According to Branson "The path is now clear to a fairly small number of similar flights which will see a rapid expansion of rocket burn time, culminating in full spaceflight, which we expect to achieve during 2013," according to the statement. "Our best estimate at the moment, if test flights continue as expected, is that we could see the first paying customer flights in 2014. However, as noted previously, safety will always be our North Star." Steps that must happen before that point include the fit-out of the vehicle's interior and moving the space liner to New Mexico, according to the statement. A booking doesn't just secure a spot in the queue as the future astronauts will participate in a series of special events leading up to the launch, including spending time with Branson on his private island, doing G-Force training at the NASTAR centre plus a 'behind the scenes' tour of Virgin Galactic's Spaceship factory in Mojave.
For the reader who wonders how Virgin Galactic's sub-orbital flights work, I transcribed the following information from their website. Virgin Galactic's space carrier is an aircraft in two parts, with the "White Knight Two" transporter cradling the smaller "SpaceShipTwo" passenger craft beneath its wings.
White Knight Two, which is smaller than a Boeing 737, lifts off from a normal runway and climbs at subsonic speeds to just over 15,000 metres. At this point SpaceShipTwo (half the width of the 737 and only 18 metres long) detaches and fires its own boosters to soar at 110,000 metres.
At this height, with the atmosphere becoming thinner and friction from air decreasing, the passenger shuttle can hit speeds of 4,000 km/h before turning off its engines, coasting along near the rim of space and gliding down to earth.
Virgin Galactic's goal is to design a vehicle that can fly almost anyone to space and back safely, without the need for special expertise or exhaustive, time consuming training, and only some required simple medical assessment to ensure the space travellers are mentally and physically prepared. Future astronauts will take part in a centrifuge training activity that replicates the G-forces to be experienced in flight. Being in good shape would be certainly helpful, so for Vasily this will be a great motivation to finally stop smoking!
Vasily's flying experience is limited to his extensive air travel, including two emergency landings, plus dangerous flights aboard very old 4-seater Cessna planes in South America, and being at the command of a small aircraft for only 30 minutes back in Russia. I asked him if his family supported his decision to go into space and he said his mother is afraid, his wife is fully supportive and his kids are totally proud. He has no fear and added: "I love this game!"
When prompted how does he hope to see himself in five years, he said he believes in living the present fully, as the past is gone and the future is something you can create yourself. A month ago he did not know he was going to be an astronaut, three months ago he was not thinking of publishing a book. His dream is to build ten beautifully designed towers that will become the landmark of a city, and hopes the first one will be in Monaco. He also has other three books he is working on. For him not event the space is the limit.
Vasily believes that lifting the target makes you jump higher, and that you should strive to make your dreams come true. He thinks this trip is something he will never forget and encourages others to get into action, instead of limiting themselves to watch the news of him going into space.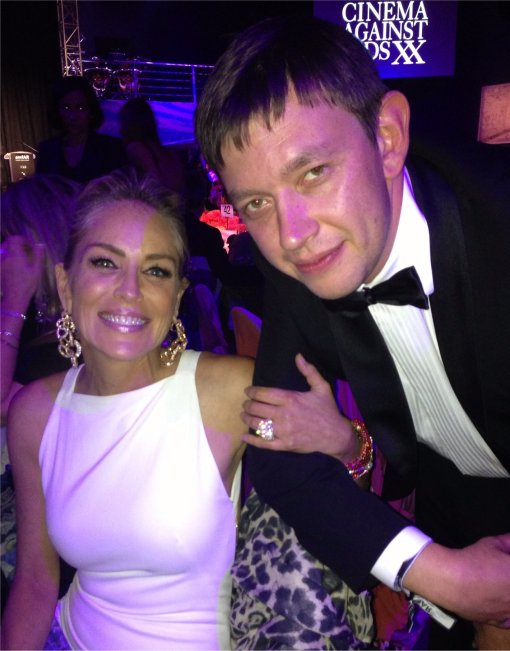 Photo: Vasily Klyukin with Sharon Stone at the Hotel du Cap-Eden-Roc during the amfAR auction (Courtesy of Klyukin)
Share this article on Facebook