Events
The Amber Ladies Day at the Races!


This event will inspire and motivate women to be the best they can be!
Book Now: Monday 9th July 2012 - €75.00
The Amber Club has been invited to participate in the 60th Anniversary of the Hippodrome in Cagnes sur Mer. This is a programme that includes a display and parade of vintage cars, fashion show, musical entertainment, along with our own programme starting with cocktails.
Throughout the evening you can enjoy the racing, listen to our speakers, have dinner together and before going home, you will receive a beautiful Daniele de Winter goody bag.
Dress code is Cocktail and HATS are a prerequisite.
We will be running a competition and the best answer to 'What the hat says to you' will win a day at the Daniele de Winter Spa in Cannes.
The finale will be a spectacular firework display.
Places are limited and booking early is recommended.
Dani Carew is the author of Redefining Amber and together with me Anna Fill, we are so looking forward to welcoming you on what will be a wonderful and special day!
***
***
Riviera Women are taking charge and leading the way!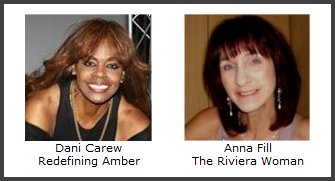 ***
***
Need help to raise your online presence?
Talk to me, Anna Fill.

Promoter*Publicist*Presenter

I have years of experience in how to achieve greater online visibility.
The Riviera Woman is a powerful platform and is proud of its reputation.
Advertising On The Riviera Woman
Talk to us because we'll talk about you. It's what women do...
and then you'll talk about us.
***
I hope you will enjoy reading all our features and articles on The Riviera Woman. New articles will always appear on the homepage or in the sections on the left hand side. If you would like to contribute to The Riviera Woman, you will be very welcome. We share all our features and articles on my Facebook Pages - feel free to add your comments. If you haven't already done so... please 'Like' The Riviera Woman, because I really like you.
I look forward to hearing from you with all your news, views and updates.
ANNA FILL - Editor
Wednesday, 13 June 2012 Section:
Events
Share this article on Facebook