Showing all articles having tag 'recipe'
Food and Recipes

This is real brain food! It is so easy to make, it is nutritional and so very tasty! It is great as a starter or as a light lunch... See more
Food and Recipes
This is a very traditional Ligurian dish and is shared by our Bordighera Cooking Goddess, Diana Monaco. Using local products this recipe originated in the region of Genoa in the twentieth century. Read more
Food and Recipes

Ristorante Tasso sits in the very heart of Sorrento. Following The Riviera Woman's recent mission to Sorrento, and an evening dining at Ristorante Tasso, we took away with us not only a beautiful experience but a recipe that we know you will want to experience for yourself. Read more
Food and Recipes
Made in Bordighera... Diana Monaco our passionate foodie shares with us her recipe for: FOCACCIA DOLCE ALL'UVA... See more
Food and Recipes
This chocolate cheesecake could not be more yummy! It is without doubt unashamedly 100% sinful but a great hit at any dinner party... Read more

Food and Recipes

The Mediterranean diet is always applauded for being the main reasons why we look and feel good. So we take a look at why we should eat more fish too. Read more
General Articles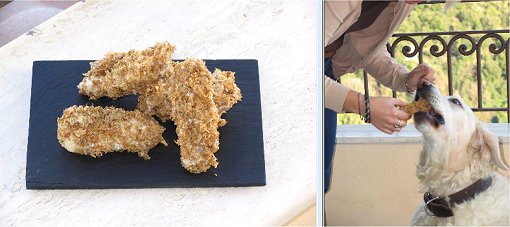 From Victoria's Pet Country kitchen comes another great treat for your dogs...
Food and Recipes
In season and a must a this time of the year - this tasty tart served with a mixed salad makes a perfect winter lunch... Experiment with different types of mushrooms.
Food and Recipes
The Riviera Woman invites chef Tina Franov to share with us one of her favourite recipes. Tina tells us why she chose this cheesecake and how to bake it...
General Articles

Victoria gets to work in her Pet Country Kitchen to make yummy bacon-flavoured doggy treats.
A great Christmas gift too for your special pet.