Woman of the Month
The Riviera Woman continues with the feature 'Woman Of The Month'. This December, we introduce you to Julie Hellon. Every month we have featured a different woman from all walks of life, nationality, profession... If you would like to nominate someone, let us know. Read more
Showing all articles
General Articles
Monaco car rally raises funds for girls education in India. Seventy ladies showed their support for Child CARE Monaco... Read more
Art and Artists

Brad Pitt, Pharrell Williams, Jessica Lang exhibited at ARTERNATIVELIGHT-4, the art show featuring 21 International & Monegasque artists for the XXI century. Read more
Events
Everything you could possibly want to know about chocolate can be found at this magnificent exhibition, Salon du Chocolat in Monaco, from the 10th - 12th October. More details
Saturday, 4 October 2014 Section:
Events
Events
As promised we have re-scheduled. Last time we cancelled owing to the hunting on a Sunday - so we have changed the day.
Time for walkies... Britalia have organised a walk on Saturday 18th October in the hills above Pigna... See more details
Friday, 3 October 2014 Section:
Events
Events
GenderHopes, Monaco-based association, will host the first Monaco screening of the documentary film Miss Representation on Monday 6th October 2014, at 7PM at Star Deck (above Stars'n'Bars) See preview and More details
Friday, 3 October 2014 Section:
Events

General Articles
Do you fear change or do you embrace it? The truth is that most people fear change but instead we should learn to manage it. This month Judy Churchill tells you how to manage divorce. Read more
Art and Artists
We feature Italian artist Roberta Gandolfi from Genoa. Roberta started painting at the age of 13 and now paints using various mediums and is often commissioned to create trompe l'oeil on homes and shops... See more
General Articles

This Italian television series has become quite legendary. Set in Sicily Inspector Salvo Montalbano is a dedicated crime buster with a true passion for food... See more
Woman of the Month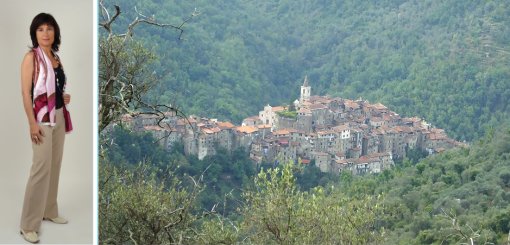 The Riviera Woman continues with the new feature 'Woman Of The Month'. This month we introduce you to Monica Buscaglia.
Every month we will feature a different woman from all walks of life, nationality, profession... If you would like to nominate someone, let us know. Read more