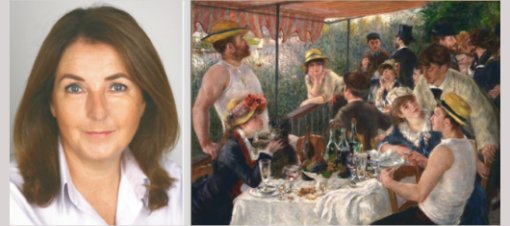 The Riviera Woman continues with the feature 'Woman Of The Month'. This May, we introduce you to Judith Evans.
Every month we have featured a different woman from all walks of life, nationality, profession... If you would like to nominate someone, let us know. Read more
All articles

Chocolate makes you happy, so we have some great ideas to fill the air and your surroundings with its wonderful aroma. Create your own ultimate chocolate paradise. Keep cool and love chocolate! Read more

Gemluc is a charity association created in 1973 and presided by Dr. Beatrice Brych and under the Honorary presidency of HRH Princess Caroline of Hanover. Through their annual competition-exhibition GemlucART, they raise funds for cancer medical research, purchase state of the art materials for hospitals and assist those suffering from the disease... See more

We continue our features on esthetic non surgical treatments to improve skin quality and talk to the experts. We investigate the technique called 'Thread Lift'... Read more
Champagne reception and glorious Thanksgiving lunch at Hotel Hermitage, Monaco, with invited members of the US military. More details
The documentary film lays bare how media contributes to the under-representation of women in positions of power and influence in America. The movie questions the media's limitations and stereotyping of women and girls, which hamper women to attain positions of leadership and for the common woman to feel powerful. Read more


Choc-a-holics are going to enjoy this event in Nice this November. A wonderful selection of chocolate makers, suppliers and workshops to tempt you... More details
Monaco car rally raises funds for girls education in India. Seventy ladies showed their support for Child CARE Monaco... Read more

Brad Pitt, Pharrell Williams, Jessica Lang exhibited at ARTERNATIVELIGHT-4, the art show featuring 21 International & Monegasque artists for the XXI century. Read more
Everything you could possibly want to know about chocolate can be found at this magnificent exhibition, Salon du Chocolat in Monaco, from the 10th - 12th October. More details
As promised we have re-scheduled. Last time we cancelled owing to the hunting on a Sunday - so we have changed the day.
Time for walkies... Britalia have organised a walk on Saturday 18th October in the hills above Pigna... See more details
1417 articles (142 pages)