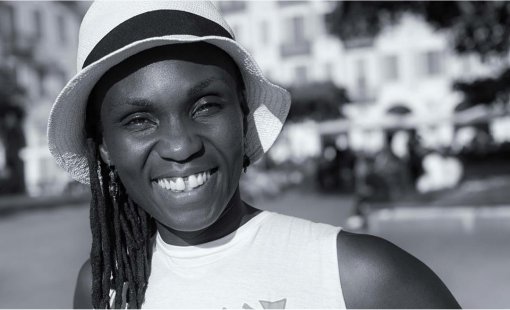 The Riviera Woman continues with the new feature 'Woman Of The Month'. This month we introduce you to Barbara Basalgete.
Every month we will feature a different woman from all walks of life, nationality, profession... If you would like to nominate someone, let us know. Read more

Talking to Natasha Frost, founder of Pink Ribbon Monaco at the Paddle For Pink event in Cap d'Ail.Natasha talks about how the organisation started, the mission and the benefits of board paddling. See video
All articles having tag 'Art'
In our American month, we feature local artist Dena Lyons. Born in Florida Dena graduated from The Dreyfoos School of the Arts and now lives in Beausoleil, France. Dena's playful sensibility and choice of colours and brushstrokes reflect her adventurous journey through life. She creates thoughtful and monumental works of art. See more

An exhibition featuring 40 superb works of art go on show at the Grimaldi Forum in Monaco until 7th September... More details...
Nice based artist Kay Hare has a passion for creating art out of an accident... Her talent is a result of hard work and passion for seizing opportunity.

Artist Gianne de Genevraye has been in residence at Hanbury Gardens in Italy to create her collection of paintings titled 'Garden of Grace'. She talks to me about her wonderful journey of gardens...

Claire Wyldbore lives and works in Provence. She creates works of art in wool and silk. Every piece is unique and cannot be re-created.

Artist Stefanie Van Zyl was born in Namibia and grew up in South Africa... her work reflects all the colour and passion from her native land and her home here in the South of France...

Meet artists Nicole Durand and Daria Jabenko in Mortola Italy and see exciting new works from two very inspirational women.

Displaying original paintings in decorous surroundings is an important feature of corporate image management.

Marion Hedger is a painter who shares her time between France and the UK. Her paintings are eye-catching, bold and bright...
Andrea Katharina Palm, is a photographer from Eastern Germany now living in Monaco.
One of her pieces is being shown at the Open Des Artistes De Monaco 2014...
55 articles (6 pages)